Welcome and please enjoy your stay in the
Blavatsky Free State
An Independent
Theosophical Republic
Long Live the Blavatsky Revolution!
The
Message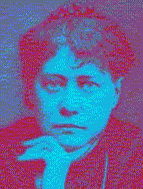 H P Blavatsky's Theosophy
An interpretation of the
Eastern Esoteric Tradition
for Western Society.
In the late 19th century, Helena Petrovna Blavatsky began a spiritual revolution in the West with a modern interpretation of Eastern Esoteric ideas which transcended all religions and schools of philosophy. These ideas are not presented as religious dogma but simply as ideas for consideration.
This new interpretation is far from easy to understand and it requires time and study to appreciate. At the time of its introduction it was probably over 100 years ahead of Western Society's ability to assimilate.
The Blavatsky Free State is a study resource with links to considerable information about H P Blavatsky's ideas but there is no quick fix and some effort will be required to understand them.
Good luck
Immigration
The Blavatsky Free State
welcomes immigration
Do you have a Theosophy Website
that offers Free Stuff Online?
Please let us know
Email:- Immigration Dep't
________________
Blavatsky Free State
An Independent
Theosophical Republic
Long Live the Blavatsky Revolution!
Thankyou for visiting